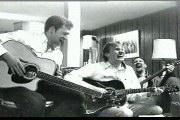 "I think that beer has created a monster and that monster is Orphus...where beer meets talent, we lie somewhere in between."

--Todd Ingle, Orphus

-----------------------------------------

Welcome to the official website of the band Orphus. Orphus is a band unlike most others. One unique feature of Orphus's identity is their overall sound. Made up of three songwriters who sometimes compose together and other times on their own, each bring a number of different elements to the tracks of an Orphus CD. Some songs have a distinct southern rock/country flavor while others are more pop/rock, and still others have a more hard rock/metal feel. Diversity to the N'th degree is what helps make an Orphus CD a truly enjoyable experience.

To find out more about the band Orphus, please feel free to browse the rest of this site. Also, be sure to return to our site on a regular basis for frequent updates.