Orphus Online

Welcome to the official Orphus website.

New Orphus Music Videos are now available for your viewing pleasure! Check them out
HERE
.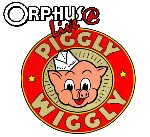 Great news Orphus fans! The band has just released a new, 3-song EP called "Live At Piggly Wiggly". This album will only be available as an mp3 download. Download it to your hard drive right now for FREE by right-clicking each of these links and choosing "Save Target As":
=====================================================================================================================================================================
======================================================================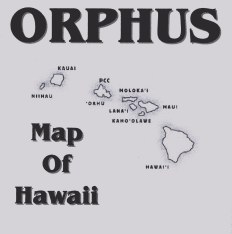 GET YOUR FREE COPY OF THE NEW ORPHUS CD "MAP OF HAWAII" TODAY, WHILE SUPPLIES LAST. SEND AN EMAIL TO
orphus.band@gmail.com
FOR MORE DETAILS. IF YOU'RE INTERESTED IN READING WHAT OTHER PEOPLE ARE SAYING ABOUT THIS FULL-LENGTH ALBUM, KEEP SCROLLING DOWN.
=======================================================================================
Orphus music, downloads and info are now also available at myspace.com:
Be sure to leave comments and rate the songs. They'll even play automatically for you!
=======================================================================================
Also, if you're interested in hearing some Orphus music from the past, be sure to visit the DOWNLOADS page on this site.
Finally...the new lyrics page has begun. We'll be adding more and more lyrics in the days to come. Check it out!
=======================================================================================
**B.J., J.J., and Todd would like to extend a hearty "thank you" to the internet radio stations who are currently playing Orphus songs in regular rotation. See the "Related Links" page for more details!
***The interview with Frank and Venkman's Big Dumb Fun Show on
Hot Music FM
went very well. If you're interested in listening to a short clip of the interview, feel free to download it below.
=======================================================================================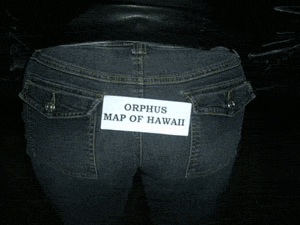 Just look at what Orphus fans are saying about the band's first CD in 4 years:
"The wait was worth it! I have enjoyed this CD so much in the past week. No matter what mood I am in I have this CD to listen to. It has got everything!! Some songs make me smile and other songs make me laugh out loud. Most albums I listen to I have to put on random because I get tired of hearing the same songs in the same order but Map Of Hawaii songs are mixed so perfectly...I just put the whole thing on repeat and listen all day over and over. Some of my favorite songs are Eternal Divine and Lost. Cold Cocktail Smile, how about a video? I love the album and am looking forward to the next one!!!!"
"I listened to the CD...only the first part, so far. I have never heard Orphus play or seen a show, but I feel like I have, and just picked up where they left off. So far the CD is awesome. I like if because it has a variety, not all the songs sound the same. My fave's are Cold Cocktail Smile and Small World...so far. I will have to get back to you on the second part, if I can get off of song number 6."
"...Map Of Hawaii shows no weak links..."
"I listened to some of Orphus's 'Map Of Hawaii' this weekend. I really liked tracks 3, 4, 6 and 10. I haven't listened to it all since my husband took it. He wanted to listen to it, too."
"I like Cold Cocktail Smile, perhaps due to my natural appetite for reggae and spa music."
"Map of Hawaii sounds the best of any Orphus CD to date. It sounds professionally produced! I am blown away by the sheer quality. 'Therapeutic' is my absolute favorite track on the album. It takes off and keeps rocking, not letting up. The guitar on 'We've Got Each Other' is an infectious riff accompanied by addictive lyrics. I love the reggae/island sound of 'Cold Cocktail Smile'. It reminds me of Jimmy Buffett!!! 'P.S.A.', what can I say?! I laughed my ass off! Very Barenaked Ladies of Orphus! Like BNL, Orphus is able to poke fun at themselves as well as others. Reminiscent of Orphus's 'Credit Card Behind The Bar'. A big tip of the proverbial hat for keeping the humor (or telling the truth). Todd has a truly unique voice that fits the songs he sings."
"With 'Map Of Hawaii', I think Orphus is finally 'finding their sound', so to speak. If you listen to 'Orgy Of The Mind' back to back with 'Map of Hawaii', the two are light years apart. 'Orgy' was good, just not this good. I think 'Trippin' On A Rhyme' showed us the sparkle of a diamond in a lump of coal with flashes of brilliance. 'Map' is what the diamond looks like after it has been polished."
"Well worth the 4 year wait! I think "Map Of Hawaii' demonstrates a lot of growing and maturing in Orphus's lyric writing and overall talent. The whole CD makes me #$@% my pants. Apparently these guys are too busy writing songs to realize how good they've become after producing and distributing this truly marketable album. This endeavor is at least as good as a lot of the commercial music out there and better than most music I've BOUGHT!!!"
"The new Orphus 'Map of Hawaii' album is an eclectic mix comprised of elements drawn from various musical styles and genres. The music was refreshingly retro with strong influences from bands such as Cheap Trick, KISS, and Rush. The musicians play well together and several of the songs were catchy with guitar riffs that were well crafted and orchestrated. For what it is, I'd give the album a 7.5 out of 10…"
"The song Therapeutic sounds a little like something The Buggles would do."
"I especially liked the one where the guys got dumped by their gals…it reminded me of a Jimmy Buffett song."
"I enjoyed Map Of Hawaii. Interesting chemistry with the 3 guys. Some pretty cool guitar throughout. I thought the Eternal Divine guitar was very cool! Pretty interesting songwriting, too. Lots of variety - even some humor. Glad they're still doing it!"
"I love 'P.S.A.' and the reggae song ('Cold Cocktail Smile')! These guys rock!"
"I think the 'Cocktail song' would be awesome for promotion. I really like that song!"
"It sounds like these guys are really having fun! My favorite sone was 'Eternal Divine' but I enjoyed all of them. I liked 'Lost' as well. 'Facts of Life' made me laugh out loud!"
"I really like the diversity of styles and the division of songs on 'Map Of Hawaii'. There is a lot of effort, talent, and creativity in Orphus's music...'We've Got Each Other' - great vocals - reminds me of Jon Bon Jovi; good melody...'Eternal Divine' - I loved this song - instrumental portions I loved, totally sexy kind of dark music but great crank up song...'Live For The Moment' - The Clash/Devo/80's retro reminder at intro, good vocal collaboration."
" 'Therapeutic' - I like this song a lot and I think I could sing along with it. "Facts Of Life - I love this song, too. It's pretty funny!"
"Jimmy Buffett eat your heart out! Orphus transcends the alternative barrier without pigeon-holing themselves, mixing good time rock 'n roll with symphonic, melodious, thought-provoking lyrics! 'Map Of Hawaii' has something for everyone! For example, 'Small World' - 'Reminiscent of the days when music was played the way it should be!' 'We've Got Each Other' - 'You'll be singing along in seconds!' 'Cold Cocktail Smile' - 'Mmmm...my kind of tune!' 'Eternal Drive' - 'Slow, low, and rhythmic!'
"I totally liked ' Taking Charge', it had me dancing in my car!"
" ' We've Got Each Other' really grew on me. Great vocals by J.J., the acoustic solo, and ending. ' Two-Legged Wreckin' Machine' is one hell of a song with Todd's voice, the excellent guitar edge behind a country/southern rock tune & the backup vocals are a nice touch. I know thye could get this one on the radio. It rocks! Makes me want to get in my old '84 Cutlass with a twelver and cruise those dirt roads back home with my buds in the summer. 'Cold Cocktail Smile' is a great, great tune, too!"
" 'Eternal Divine' I love the tribal beat and even better the guitar throughout. Just like you're cruising down some desert road in an old, dirty convertible thinking about all the bad shit you left behind. ' PSA' - I like this tune. Homegrown for sure and it's a great bar tune. It's the lyrics...what a story! The 'California King...' line is classic. ' Don't Know Me At All' has a nice intro beat, clean, great build up....cool vocals. Catchy song and the lyrics are very real. My favorite part is the solo breakdown and middle/end. Nice guitar solo that rocked!"
" 'Lost' - I really liked this one. Todd has the country/southern rock down with his vocals. Lyrics are great and it is something everyone, at least I know, has gone through. The guitar in the background keeps it edgy and not too country, which is great. On 'Live For the Moment', BJ sounds like he's having a blast. I like the screaming guitar and the bass is a great riff in the background. I ended up singing this one on the way home last night. It really grew on me. 'Facts of Life' - Oh Yeah, too good! I can't believe you guys got the lyrics so right. What a catchy tune and great harmony vocal backups. Definitely one of my favorites, like Zappas 'Titi's & Beer' but better. 'An opening and I liked the position'....Incredible! Great mellow solo too. BJ did a great job on vocals. His best so far, in my opinion.'Map of Hawaii' - Nice voice layering & harmony. Great little ending tune and funny inside joke, (like ZZ Top) too. I really enjoyed the whole CD, and the pics & cover are great, too!"
"I like the 'birds and bees song' ('Facts Of Life'). That was too funny. I made everyone in my department listen to that and they laughed. I think the other one I like is 'my wife left me for a doctor' ('Cold Cocktail Smile')."
"I really love the lyrics on 'Therapeutic' - honest and funny at the same time. 'Small World' has a great sound and is a great production. The timing is perfect, the bass sounds great, and the singing is perfect on this one, too. Perfect country rock or folk rock type song. The bass playing on 'Map Of Hawaii' is amazing. It really 'makes' the album. 'Two-Legged Wreckin' Machine' has a great opening! And Todd's vocals sound like perfect southern rock. Molly Hatchet anyone? ' Eternal Divine' I love this song...dark prog sounding. I love the guitar sound and the guitar solo. Great guitar sound! Great solo too! and longer too!"
"I got the cd yesterday and listened last night and on my way to work. GREAT STUFF! I LOVE 'Eternal Divine'...that song kicks ass. 'Cold Cocktail Smile' was also great. I almost lost control of my car this morning when I heard 'Map Of Hawaii' This CD will be in my CD player in my car for a while. Orphus has a new fan."
"Overall, I thought it was a very 'fun' cd!!!!! A lot of the songs had me jammin' in my chair...these guys seem to work very good together. My favorite songs are 'We've Got Each Other', 'Cold Cocktail Smile' and, 'Facts of Life'.
"I REALLY like the Buffett-action in 'Cold Cocktail Smile'. 'Live For The Moment' would have fit perfectly (minus
the solo) on the Ramones' MONDO BIZARRO album...'Facts Of Life' is cool as sh*t. The 'fifth grade teacher' line is priceless."
--------------------------------------------------------------------------------------------------------------------------------------------------------------------------------------------------
Don't be fooled by the 2 boxes (directly below) that look like advertisements. The box on the left is a link to our guestbook - please click on it and sign it. Thanks!